Green Building
Avalon Enterprises is committed to environmentally friendly design and construction.  All our projects have many sustainable design elements built into them automatically, resulting in healthier indoor air quality, comfort and efficiency.  How far "green" we go with is up to each client, and we are happy to educate you along the way as you consider trade-offs.  We have designed LEED Platinum homes and are knowledgeable on Passive House design.
Green is style agnostic. A green home can be designed within a budget to fit the specific needs and goals of a family.  Building green with Avalon is a personal and creative collaboration making the world a better place.
FREQUENTLY ASKED QUESTIONS
FACT SHEETS
Green Building Links
Energy Efficiency in the Home
Water Efficiency
Landscape, Greywater and Rainwater
Recycling, Reducing Waste, Composting
California Resources and Tax Credits
National Environmental Education Organizations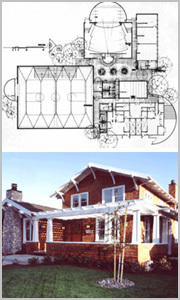 "….┬áKacey's attention to detail, thorough command of design principles and sensitivity to our long and short term goals, resulted in a space that exceeded our expectations. This award-winning designer was an early advocate of building ÔÇťgreenÔÇŁ and integrated energy efficient and sustainable products into our remodel."
— Steve T.